Street View Moderator
GoThru invested the most in the integration with Street View API and because of that 60% of Google Trusted Photographers are using GoThru tools to publish to Google Street View.
Become a Trusted Photographer with GoThru and start publishing to Street View.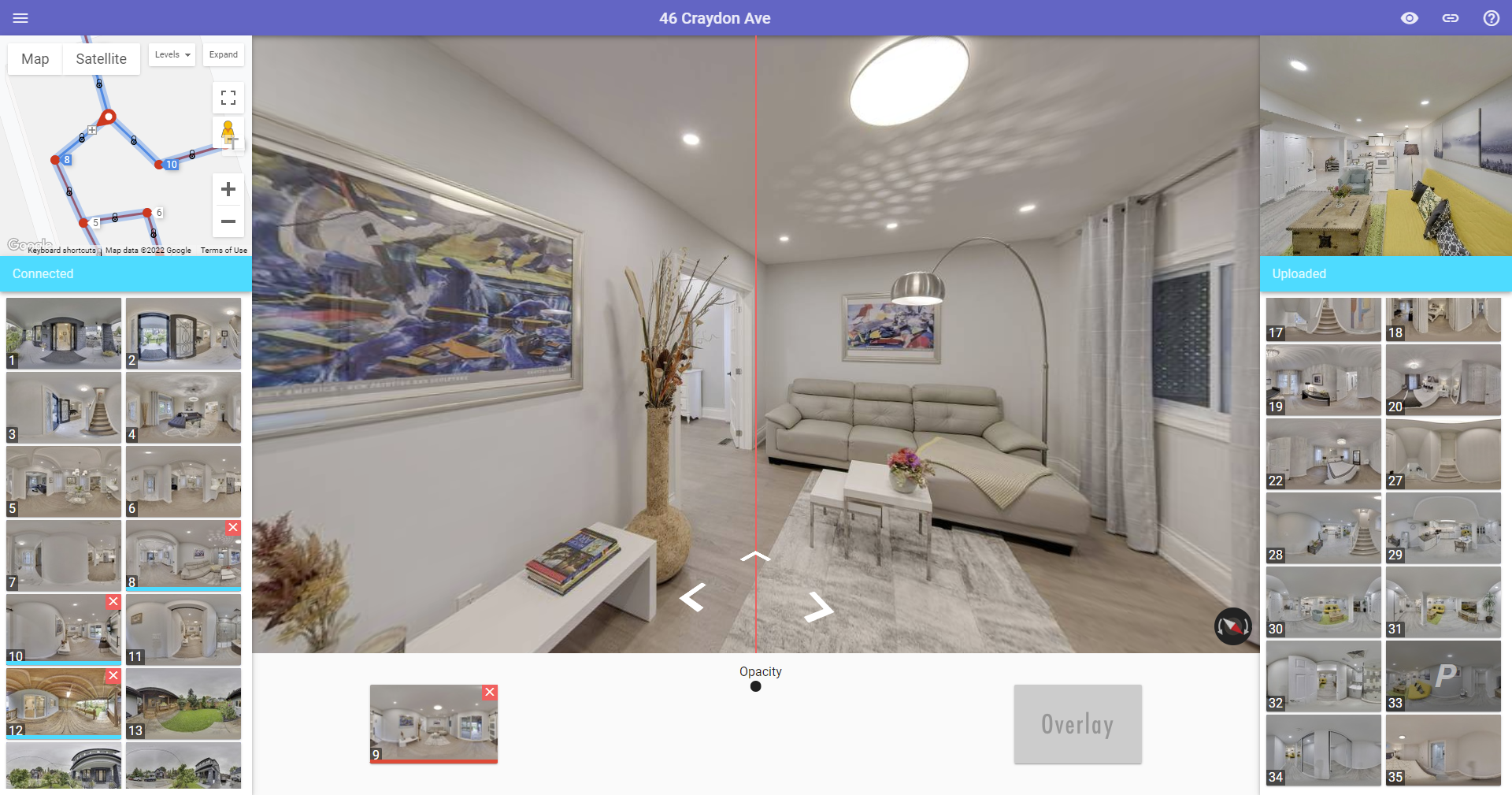 1 Upload
Upload your panoramas to GoThru directly, or by importing from your Google Drive or Dropbox.
2 Connect Panoramas
Use the best moderation technique, that works for you (Map, Keyboard or Mobile), and connect your panoramas in minutes.
3 Preview
Preview your tour before publishing to Street View, and ensure that all your connections work properly.
4 Publish to Street View
See and navigate your panoramas on Google Street View within 5-10 minutes from pressing the "Publish to Street View" button.
Connect using the Map
Start using the most intuitive mode, by positioning the panoramas on the map and then connecting them.
Connect using the Keyboard
Cut the time of connecting your panoramas and become a professional by using the keyboard and the amazing Q key (auto align, with center).
Edit Constellation
Select, rotate, reposition and scale your constellations with ease directly on Google Maps.
Working with Levels
Expand your tours vertically, using Street View elevator widget. Use the levels to group your panoramas per floor or by areas.
Working with Blur Function
Google requires blurring of license plates, faces or any other sensitive or private information. GoThru offers an easy to use blur tool that is implemented directly in the moderator.
Freequently Asked Question
Can I Publish for Free to Google Street View ?
GoThru allows you to create free virtual tours made of a maximum of 4 panoramas per tour. You can publish these tours on Google Street View.
Does GoThru blur faces and license plates ?
GoThru has a blurring tool where you can easily blur faces and license plates.
Can I edit a tour that has been published to Google Street View ?
Yes, first use the Import from Google function and then you can edit the tour and re-publish it.
What happens with my Google Street View if I stop my subscription ?
Nothing happens. Once the tour is published to Google, it will stay on Google till Google removes it.
Does GoThru supports levels/floors ?
Yes, our Moderator allows you to place 360 images on levels/floors and create connections between levels/floors.
How to select the starting panorama and angle on Google Map Business page ?
Google does not allow anyone to select the starting panorama and angle, but GoThru has implemented tools that gives you some power but not full control.