Google Blue Line Tour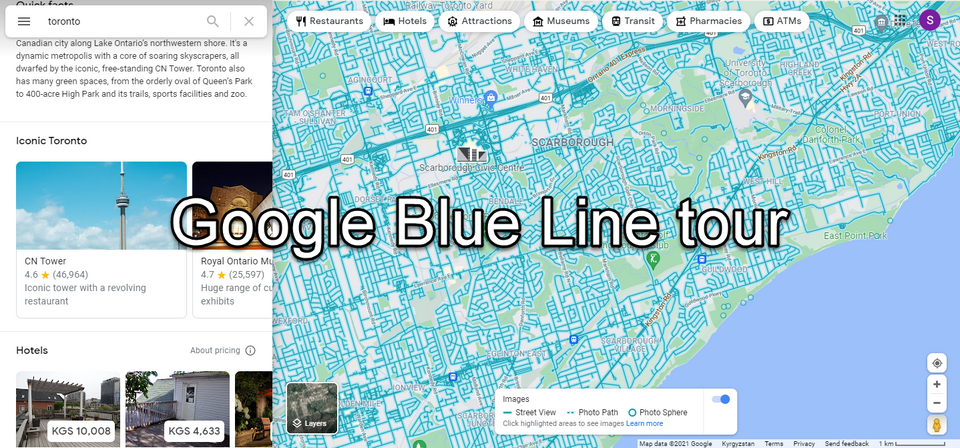 The Google Blue Line tour is a series of sequence panoramas that are not associated with any business and are for a street or path. A Blue Line is made up of a line, the first pano and last pano have one connection, and all the others have two connections, there can not be intersections.
To create a Blue Line, you need at least 25 panoramas, shot on the street or path, where the panoramas are 3-5m (10-16ft) apart. You can not create blue lines inside a business. It needs to be outside, and the panoramas need to have a sky.
How to create a blue line tour?
There are several ways you can achieve the blue line and here are some examples:
1. Video Mode - by using this feature, you can take a 360 video with your camera by driving/riding/walking and submit it to Google as a video. The Street View app will strip frames from it at specific intervals and turn them into a series of connected Street View photos covering your route. Note that in the video, you can not have intersections and you can not have multiple sections, it has to be a continuous stream of panoramas.
Read documentation How To Create A Blue Line Tour Via The 360 Video Pipe Line Using GoThru
2. Individual panoramas from Street View Ready Cameras. Using an individual panorama means that you create a Google business tour that can then be transformed into a Blue Line tour. Since a blue line tour is not associated with any business on Google, GoThru needs an address from a nearby street where you create the blue line, so we position the panoramas properly on a map.
Read documentation How To Create A Blue Line On Street View From Individual Panoramas With Gothru
3. Splitting the tour - What you need to do is breaking the tour into 5 tours where each has at least 25 panoramas. Then you can publish each tour individually. Once everything is published, Google will auto-connect panoramas from these tours that are within 5 meters, so the blue line will act as one
No matter which method you choose, your contributions may appear as a blue line on Google Maps. Though usually after some days or weeks, Google will convert them to a blue line in a separate processing step.
How to access Google Street View "Blue-Line"?
The only way to access a Blue Line is via the Time machine or by dragging and dropping the yellow pegman.
1. Via the time machine
Click on a new clock icon that will appear in the corner of the screen when using Street View on Google Maps on a desktop or laptop computer, firing up the scrollbar-controlled time machine, change the year to see your blue line, or a blueline published by others and Google`s blue line tours.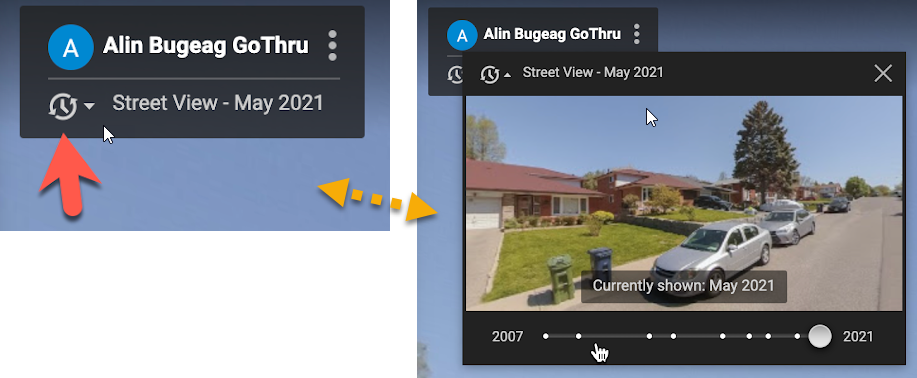 2. Using Pegman
Another way to see blue lines is to grab that yellow pegman figure located at the bottom right corner on maps.google.com
If you grab it (click and hold) and bring it over the map it will switch to blue lines mode. if you drop it or release the mouse button on any blue line or on any circle representing somebody's 360 it will show a 360 view and also shows a map with blue lines.

Note on Blue Lines
1. It will not delete Google Blue Line
You can not update Blue Lines done by Google, and you can not delete other Blue Lines. What you can do is add a new Blue Line. All of the blue line tours will be available on Google Maps and can be view via the Time Machine feature. You can check the Blue Line I did on my street.
https://goo.gl/maps/sKxd6oAdRiZfp99t5
2.  Google will not replace the "See Outside" image with images from your blue Line
Some people think that by publishing a Blue Line, they can replace Google See Outside. But that is not what is happening. Google will not replace the "See Outside" image with images from your Blue Line.
3. You can`t connect Google Street View "Blue-Line" to a GSV business tour

You can not connect a business tour to a Blue Line. Even though you have published both Business tours and blue lines. The reason is that when you publish a blue line basically you create a video where each pano is a frame in that video but each pano in the blue line doesn't have Pano ID. In fact, we need the pano ID to connect or clone two different tours.
In the past, Google had a feature that allowed you to go from a blue line into someone's place inside tour, but that feature is no longer available on the site. In rare cases, a blue line can be linked to an inside tour, but this only happens by accident.