GoThru Media is the first to market with a replacement solution for the soon to be discontinued "Google Street View editor" used by thousands of Street View trusted photographers worldwide.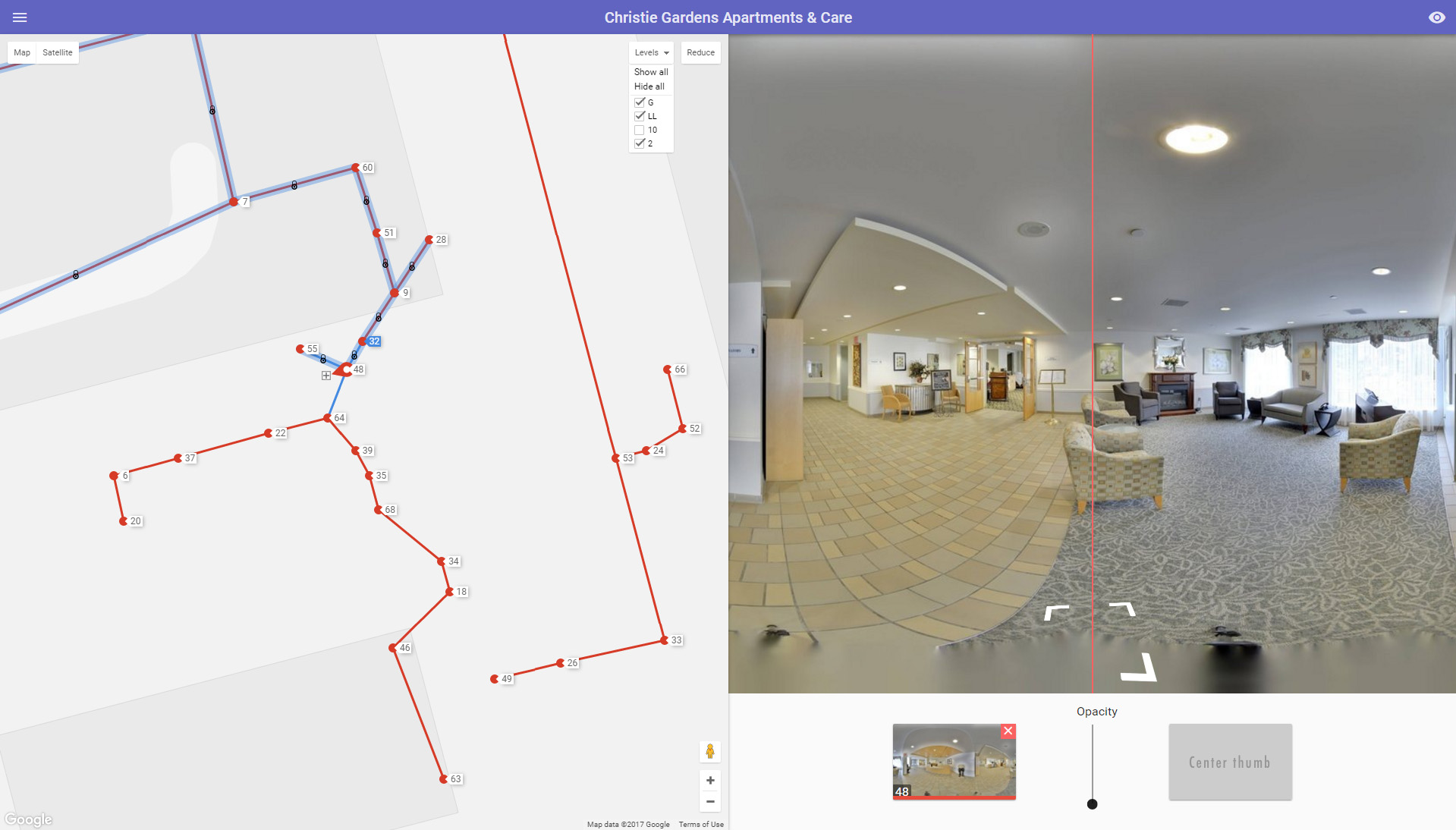 Toronto, Canada, March 2017 - GoThru Media is pleased to announce the launch of GoThru Moderator, a tool which will replace the soon to be discontinued 'Google Street View editor' (desktop publishing utility). Google announced on January 31st that the tool would no longer be available directly, but that it had made its API available to a small number of early API clients.
GoThru Moderator is the one of the first professional tools to market which allows photographers to continue to create, save and publish 360 panoramic tours or "constellations" to Google Maps and Street View. These tours are fast becoming bedrocks of digital marketing in the retail, used to market businesses, and enable the viewing of hard-to-reach areas and points of interest.
GoThru Media was founded in 2012 by husband and wife, Alin Bugeag and Alina Bugeag. At present, GoThru supports over 3,000 Google Street View trusted photographers with its range of products.
Google has chosen to end its support of the professional desktop editing utility used by Street View trusted photographers, focusing 360 growth efforts on mobile publishing and supporting a broader ecosystem of publishing utilities. "The level of customisation required by professional 360 photographers would be impossible to achieve with the Street View app alone," said Alin Bugeag, GoThru CEO.
Google stated that development of successor publishing utilities using its API will enable 'a nearly limitless level of customization.' GoThru is the first of a handful of API clients worldwide to use the Street View Publish API to bring a professional solution to market ahead of the Street View editor's "turndown" on March 31st.
Ain Bugeag, said: "The GoThru Moderator is not just a replacement for the Street View editor, it's a significant enhancement. In addition to the familiar Google-style linked dots, GoThru offers photographers an innovative new way to align 360 photos that will save time moderating tours. We were astounded and encouraged by the support GoThru has received following the Google announcement from photographers across the planet.' (Testimonials below)
Stafford Marquardt, product manager for the Street View Publish API, said: "Street View contributors are about to gain a number of powerful new publishing options. Our early Street View Publish API developers all have a strong history of supporting professional panoramic photographers, so we're eager to see how these industry leaders help shape the future of Street View publishing."
To date, the GoThru plugin has created and saved over 44,000 constellations. GoThru expects these numbers to grow significantly in the coming months, with Alin Bugeag estimating that 70%-80% of all professional Street View trusted photographers will use the groundbreaking GoThru Moderator tool to continue to "GoThru" to Google Maps and Street View.
GoThru currently also offers a "360 Video" product and a 'Hosted Tours' solution which are predominantly used by real estate and property markets.
"GoThru's goal is to help photographers increase their revenue," said Alin Bugeag, a photographer and programmer. "I just love creating applications that can help people and I believe in offering photographers a gold standard of support."
GoThru Moderator will be available for all to access free of charge, from March 15th thru April 1st. This sunrise period will provide professional photographers with an opportunity to trial GoThru Moderator and review the utility's functionality. Go Thru is hosted at www.gothru.co
About GoThru
GoThru Media provides tools to help Street View trusted photographers make and sell Google Street View tours. GoThru is created by trusted photographers for trusted photographers. Along with his wife, Alina, Alin Bugeag has been a trusted photographer since 2012 and has done more than 450 Street View tours in the Toronto, Canada area. In March 2015, GoThru saw the need for a way to save and update constellations in the Street View editor and created the GoThru plug-in. GoThru now provides features such as tour previews, portfolio tools, hosted tours, 360 videos, and now the GoThru Moderator. In addition to Google Maps and Street View, 360 panoramic tours are now also supported by Facebook and some yellow page sites, also making the medium more desirable.
Testimonials
Testimonials received from Street View trusted photographers using the GoThru Moderator:
"GoThru adds tools and services that everyone with Google Street View should be using. GoThru saves us time which allows us to better serve our clients" Chris Petracco
"GoThru has allowed me to save many hours of work. It is a brilliant product and I advise everyone to use it." Luca Trecentosessanta
"GoThru is an essential tool for all Google Trusted Photographers." Joel Bolton
"Go Thru is not just about great tools, it's also about fabulous service and support that is second to none." Mark Charette
"GoThru is an absolute necessity in my workflow for 360 tours." Stephen Johnson
"GoThru provides tools that dramatically help our business, their service ethic is fantastic and their service delivery is flawless, I can't say enough good things about them." Declan Clancy (Ireland)